Continuing our series of interviews with RMA prize winners, Niki Zohdi interviewed the 2021 recipient of the Tippett Medal Jonathan Woolgar, discussing his winning composition, musical career and influences.
---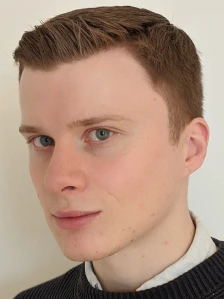 Jonathan Woolgar is a London based composer. He draws from a wide range of musical experience to create work that is communicative without compromise. His music has been played around the world by performers such as Héloïse Werner, 12 Ensemble, the London Symphony Orchestra and the BBC Scottish Symphony Orchestra, as well as broadcast several times on BBC Radio 3. A recent Royal Philharmonic Society composer, Jonathan's current projects include a commission for the LSO's 22-23 Barbican season.
Niki Zohdi (NZ): First of all, I'd like to congratulate you on your Tippett Medal winning piece Canzoni et Ricercari. How did it feel to win this medal?
Jonathan Woolgar (JW): It means a lot because listeners have responded to it in some way. All I want as a composer is to get some kind of response from a listener and to get an emotional reaction. The fact that the panel has given the piece this prize is incredibly satisfying simply because it means that there are people out there who really liked it.
NZ: How did you get into composing (or music in general) from the beginning?
JW: I always wanted to compose for as long as I can remember. It comes from the idea that I've always wanted to recreate the amazing experiences I have had as a listener of music. When I started composing, it was to recreate the things that I love and that is still the case.
NZ: Can you share any of the pieces you had those reactions to?
JW: My musical background as a child and teenager was drawn to musical theatre and rock music. The discovery of classical music came a little later and I try in my music to bring all of those influences in but it is a challenge to do that without my pieces sounding like a bad example of fusion. It is the theatricality of musical theatre and rock music that interests me the most.
NZ: You express that you're interested in gesture, theatricality, intertextuality, and emotion. Do these stem from your interest in musical theatre and rock music?
JW: Yes, definitely from the theatrical sense. Gesture comes from the love of the physicality of music which classical music delivers in spades and it is that directness which I love both as a listener and a composer. Things like the physical action of the bow on the string or the breath through the instrument. Intertextuality ties in with trying to bring in as many influences as possible and to sit within my personal musical tradition in history. Ultimately, it is the sense of communicating something physically which goes straight to emotions and the fusion of body and soul in that which gives music its meaning.
NZ: Are these aspects intuitive to you when you compose?
JW: The idea compositional process to me is the perfect blend of an intuitive & instinctive approach with a sufficient amount of control and systematic thinking to put the piece in the best possible shape. The conception of the gesture is usually spontaneous, though.
NZ: You touched on the influence of music theatre and rock music in your earlier years, but are there any composers, styles, musicians etc. which influence you at the moment?
JW: One of my biggest influences is György Kurtág. He is the ultimate example of a physical and gestural composer and he's had a huge impact on me. It's a case of taking the spirit of what Kurtág does and putting it into what I do. Jim Steinman has also been a big influence on me and this influence combines lots of aspects of my musical personality.
NZ: How do you work with these relationships to your influences when you compose?
JW: To some extent, you are always going with or against something that exists as a composer. To start from scratch would be impossible, so it's fine to embrace that intertextuality. However, to rehash something that has been done is a shame when there are so many paths to explore. In some ways, I'd love to write Strauss tone poems but Strauss has already written those so there is nothing I could add to that. You try, as a composer, to incorporate what you love into what you do. Every piece I write incorporates at least two or three existing pieces that mean something to me.
Canzoni et Ricercarti uses an aria by Pergolesi from his opera L'Olimpiade which is an obscure aria I have always liked which has sat in my mind for over decade and is one of the main bases for this piece.
NZ: How does the Pergolesi work in the piece?
JW: It works on a motivic level. I took extracts of the aria which I like and turned them into my material and arranged them in different ways. There are a couple of places where it becomes close to a direct quotation, but it is in a very different context. As the quotation is not from a famous piece, it won't necessarily be detected as being Pergolesi. It is a fascinating and haunting place to be in working with quotation and reference in this way.
NZ: You refer to a 'Frescobaldian' title for Canzoni. Is there any Frescobaldi in the piece?
JW: It's just the title, apart from the canonic elements in a broad sense. It does add another layer of intertextuality. The atmosphere the piece creates has an archaic quality suggesting that a distant past that links to that as well.
NZ: You write about eloquence and ineloquence and the interstices between them. Can you expand on this in reference to Canzoni?
JW: When I think about eloquence and ineloquence, it is about how the music flows or doesn't. In other words, the smoothness of the musical grammar. One might say that a piece by Mozart might be the ultimate in eloquence in that it speaks smoothly and coherently at length. You might say that a Kurtág fragment is an example of ineloquence: it's fractured, broken and guttural – the line between those is what I find very interesting. Sometimes an instrument can seem to speak very freely and flowingly and sometimes you can create the effect that the instrument can stagger, halt or seem to get lost. That manifests in Canzoni in that you have moments where the structure flows in a smooth and logical way and places where other elements come in and break that flow. I find those moments fascinating where you can create the impression of breaking your own flow in your music.
NZ: This is very clear at the beginning of the piece because we hear a cluster followed by an E major chord. The fractious relationships you refer to become evident from the outset.
JW: The bluntest contrast between a chromatic cluster and major triad and that contrast unfolds in more subtle ways as the piece goes on. The fractious relationships are also reflected in the nine onstage and three offstage players which is the other divide in the piece.
NZ: Is there anything you would like to add about the piece?
JW: I would like to thank the RPS for commissioning the piece and for The Twelve Ensemble for doing such a brilliant job with the piece in the brilliant space of Gloucester Cathedral. Working with The Twelve Ensemble was one of the best experiences I have had as a composer.
NZ: Are you working on anything at the moment?
JW: I am currently working on a piece for the LSO which will be performed on 28 May in London and I'm also working on a piano piece.
NZ: Do you have any advice for composers wanting to submit a piece for the Tippett Medal?
JW: Just do it! There's nothing to be lost. There is so much interesting and special music out there so any chance to get it to a wider audience is a great one.
NZ: Finally, do you have any general advice for young composers?
JW: Be nice to people and work really hard to develop your craft – there are no shortcuts.
---
Niki Zohdi is a composer, tenor and conductor born in Blackburn, England. He completed his music undergraduate degree and composition master's degree at Goldsmiths under the tutelage of Roger Redgate. Niki is currently a practice-led PhD researcher in composition at the University of Leeds supervised by Mic Spencer and Martin Iddon, exploring collision and proximity in his music. He has also received tuition in composition from Chaya Czernowin. His music has been performed, workshopped and recorded in the UK, Europe and Israel by the Ligeti string quartet, Carlos Cordeiro, and Seth Josel amongst others. As well as being a composer, Niki is an active tenor both as a soloist and in professional choirs throughout Lancashire and Yorkshire. He is also on the editorial boards of Leeds Postgraduate Review and CePRA Journal.