The Study Day on Music and Space took place on 28 October 2017 at the University of Manchester's Martin Harris Centre. The packed programme was concerned with all aspects of space in music; the call for proposals was intentionally broad. The proposals we received were indeed very varied: from 18th-century glees to antennae to musically detect electro-magnetic fields. The study day was combined with the MANTIS Festival for electroacoustic music which took place in the evening of the same day.
The day kicked off with a paper by the electroacoustic composer Epa Fassianos (University of Manchester) who described how spatialisation decisions influenced compositional choices in his piece Land of the Sirens. Following, Mark Dyer (Royal Northern College of Music) spoke about musically invoking the ruins of a heritage site, by bringing together site-specific music and audio tour commentary. Sam Cleeve discussed the intimacy afforded by virtual reality in relation to music videos.
In the second session, Silvia Rosani (Goldsmiths) was also concerned with creating intimacy in music, as she described her piece White Masks; resonator masks were used in the performance space to create 'sonic islands of intimacy'. Micah Anne Neale (Royal Holloway) spoke about the 18th-century spaces of London Public House; her detailed research showed that music, (lack of) privacy and society were all intertwined. Nicholas Rheubottom (King's College) described a very different 18-century space; the imagined space of Ossianic poems and the glees which used them as lyrics.
Lunch was served for the delegates who carried on enthusiastic conversations begun during the questions of each presentation.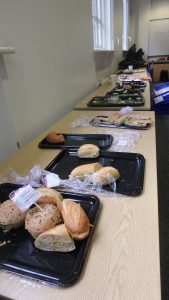 The study day continued with the same punctuality with which it had started. Mary Yang (Rhode Island School of Design) described how her site-specific musical performance Entr'acte brought alive paintings at the Rhode Island School of Design Museum. Virginie Viel (De Montfort University) impressed with her visual metaphors and their translation to acousmatic music; I appreciate any acousmatic music using a harpsichord! Derck Littel and Ronnie Deelen (Royal College of Art) presented their antenna for detecting electro-magnetic fields; these were musically audified in a most musical and understandable way. Ronnie also treated the delegates to a performance on his modular synthesiser making use of the 8-loudspeaker array.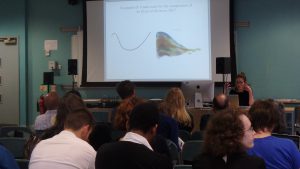 The final session included Simon Smith (Anglia Ruskin University) who spoke about qualities of spatial engagement, making the point that space can mean many different things; his space-related pun (Be spacific…) was greatly appreciated. His argument reflected the call for proposals which had intentionally been worded very broadly, as he called for practitioners to be more specific when talking about space. Finally, the keynote lecture was given by Jonty Harrison who spoke about his illustrious career as an electroacoustic composer. He demonstrated how different performance spaces have led him to build different loudspeaker set-ups, culminating in a 92-channel piece… His presentation surely enticed many of the delegates to attend his concert in the evening where he was playing his new piece 32-channel, hour-long piece Going / Places.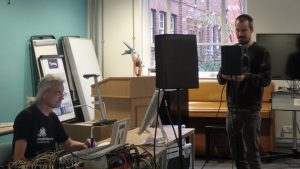 The study day was a success with 36 registered delegates and a number of high quality papers. The mixture of topics worked well as many similarities appeared between sometimes apparently unrelated topics. Many contact details were exchanged and some expressed interest in organising future study day. The technical staff was fantastic in setting up an 8-loudspeaker array and being at hand when a cable was missing. Tea, coffee and biscuits were provided throughout the day.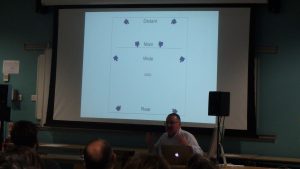 In conclusion, the study day brought together researcher and practitioners from a wide range of fields of musical research. The inclusion of a number of composers was particularly welcomed. The delegates left tired but expressing satisfaction with the running of the day, and showing interest in future RMA events.