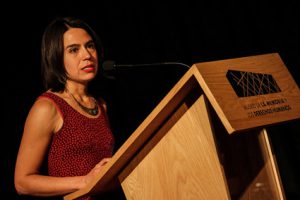 This month, Katia Chornik talks to the student representative Núria Bonet about her statement paper on the role of academic societies – such as the RMA – in making public statements on political developments (Should Academic Societies Make Public Statements about Political Incidents?). Katia is a researcher and journalist who founded the Cantos Cautivos project, which collects songs and stories on musical experiences in political detention centres during Pinochet dictatorship in Chile. Núria interviewed her about her paper to understand her arguments but also the resistance she has encountered about it.
Find Katia Chornik's statement paper KChornik_Should-Academic-Societies-Make-Public-Statements-about-Political-Incidents_RMA-Newsletter-21.2-Nov-2017.
Katia's statement paper calls for academic societies such as the RMA and BFE (British Forum for Ethnomusicology) to make public statements on worrying political developments such as Trump's so-called 'Muslim Ban'. The paper describes the mixed reactions at the BFE AGM where she proposed this measure; some argued that making a political statement would interfere with the society's legal status as a charity while others argued that this was a moral rather than political issue. Katia says that she does not agree with 'suggestions that we should not get involved because this is political'. She explains, 'this is an issue of citizenship, comradeship, and sensibility. This is something that affects us and our colleagues directly. Things that are happening now in the US are clearly attempts against the concept of humanity. You can label it as you want but I think this goes beyond politics. I would like to believe that people of any political beliefs would be against this type of persecution'.
There are precedents from academic musical societies making public statements about political developments. This year marks the 10-year anniversary of the SEM's (Society for Ethnomusicology) statement on torture. It condemned the use of music as an instrument of torture, following press reports from 2004 onwards, which exposed the use of music in Guantanamo and other centres run by the CIA and its associates. The SEM has in fact published a number of public statements, the latest being a response to the white nationalist rally in Charlottesville in August 2017 . The AMS (American Musicological Society) came out against torture in 2008, albeit less publicly in the newsletter and in a 'softer' manner (http://www.ams-net.org/newsletter/AMSNewsletter-2008-8.pdf , p. 5). In the UK, the Musicians' Union and other groups took action, and Peter Gabriel headed a letter signed by a number of famous musicians which was sent to President Obama. While there was some activism, the UK academic societies did not react. Jeff Todd Titon, who drafted the SEM statement against torture, reflected on its significance for the organisation in his Introduction to the 2015 OUP Handbook of Applied Ethnomusicology: '[It] was a significant step in SEM's evolution. It recognizes that ethnomusicologists are citizens of the world with social responsibilities, and that our professional organization has not only the right but also the duty to represent the profession's ethical beliefs and act upon them.' (pp. 28-29)
Katia sees a dichotomy between discourse and practice when it comes to citizenship issues (or matters) and music academics. 'Many people in ethnomusicology, for example, do work which is explicitly for the benefit of society and in favour of human rights. They are very ready to do good for others. It is therefore striking that there might be a reticence to engage in issues like the 'Muslim ban' publicly. The suggestion that the 'Muslim Ban' has nothing to do with music, and should therefore not interest a society such as the RMA, is quickly squashed by Katia: 'I don't agree that the travel ban does not have anything to do with music. There are constantly international music conferences being organised in this country, and the fact that these restrictions exist means that academics from other countries cannot come to them (The Guardian, 'University conferences at risk as academic speakers refused UK visas'). They cannot contribute and they cannot collaborate with academics here. Just recently this happened to a researcher – not a music scholar but still a researcher – who lives and works here (The Guardian, '"Leave immediately": scientist is latest victim of Home Office blunder').'
There is growing interest in reaching out to the 'real world', to be involved in public engagement through public musicology, applied ethnomusicology, etc. This year, the Institute for Musical Research organised a Distinguished Lecture Series with Prof Martin Stokes on 'The Musical Citizen'; one of the lectures was on 'Public music studies and citizenship , and the SMI (Society for Musicology in Ireland) organised a whole conference on Public Musicology.
Finally, she shares a highly personal but compelling example of the power that academics can exert: 'My existence, the fact that I was born, is due to academic activism. My parents were political prisoners during the Pinochet dictatorship in Chile. My father had done a PhD in Berkeley [University of California, Berkeley] during the 60s. As soon as it became known that my parents had disappeared, the scientific community rallied. First in Chile, one of my father's colleagues raised the alarm. My father worked at the Universidad de Chile and my mother was a very famous ballerina at the time. The scientific community made an international appeal, even Nobel Prize winners were involved, and they made so much noise about the disappearance of my parents (they focused on my father because he had a link with the US)! He had studied at Berkeley thanks to the Plan Chile-California, established in the 60s., which gave out grants for student exchanges. When the president of this exchange, the vice-chancellor of UCLA, heard that my father was in the hands of the secret police, he decided to suspend the exchange plan until both my parents were found alive. My father's story appeared in the US media and even reached the US Congress. It was all thanks to the activism of academics!'
Katia appears weary of sharing this story because she believes that we should not only become engaged in issues when they affect us personally. She believes that she would still hold the same opinion about the role academic societies today, without this personal background.
What do you think? We are keen to hear from both sides of the argument and invite you to engage in the discussion. Get in touch with the Student Representatives (http://www.rma.ac.uk/students/?page_id=1728)!