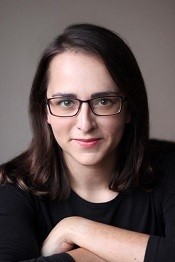 Continuing our series of interviews with RMA Prize winners, at the BFE/RMA Students' Conference we interviewed the 2016 recipient of the Jerome Roche Prize, Katherine Hambridge.[1] Dr Hambridge is a specialist in early nineteenth-century French and German music. We spoke to her about her academic career, some of the challenges faced in her research, and about her advice to those aspiring for a career in academia.
What are the most and least favourite aspects of your job?
Predictably, my favourite aspects are research and the teaching. The nice thing about a departmental post is that there is more of an even division. I like engaging my students' interests and have a mischievous delight in pulling the carpet from under their feet and encouraging them to think differently. I like to see the point where they become independent researchers. At Durham we do a lot of research projects, and it's nice to see them exploring their own interests.
On the research front, I think I have a strong antiquarian impulse as a historical musicologist. I enjoy that early stage of research where you just get to revel in some foreign archive, in its own particular charm, and just consume! That later stage where you have to pull arguments out is satisfying, but a bit more painful.
In terms of the least favourite aspect of my job, you are constantly juggling so many responsibilities: teaching, research deadlines, administrative responsibilities. I find the compartmentalisation sometimes difficult and frustrating. It often doesn't feel efficient to break off one when you feel in full flow!
What would be the best piece of advice you would give to doctoral students aspiring for a career in academic research?
Follow your passions, but the process of getting a job in academia can be wearing, and the instability can also be a challenge. You need to make sure you are doing something you really love, but you also need to be quite pragmatic and calculating. It's about finding a balance between those two things. Some important things are going to conferences and meeting people, getting some early publications in high-impact journals, and that when you are developing your CV make sure that extra responsibilities count, rather than just overload you with worthy tasks. It is a challenging combination of following your passions and being calculating.
Have you had any mentors that have inspired you?
I didn't come from a musical family, and early on I had some music teachers who really opened new worlds to me. That continued at Girton College Cambridge; my Director of Music, Martin Ennis, was great at nurturing my academic interests. There is also my PhD supervisor, Benjamin Walton. If I were to characterise his particular gift, it would be the way he encouraged me to follow my nose and gave me the confidence to follow weird swerves and tangents. This is how I ended up looking at things I didn't expect, like the music of spoken drama and war songs. It was never part of my proposal, but he not only let me do that, but encouraged me to.
I have been involved in the Music in London project headed by Roger Parker, and he, along with Ben, was a very critical reader of my work. Because he is quite intolerant of my antiquarian pleasures, he has often been the one to push me to be more ambitious in my claims and arguments, because not everyone is going to share my love of Berlin newspaper reviewers in 1801! Those are some of the main influences. I feel very lucky because some people describe their PhD supervision experience as one of frustration or loneliness, but that wasn't mine.
What is the best piece of advice you have been given?
This was something that Roger Parker said to me. At its best our work is demanding, and emotionally demanding, and for that reason you can't necessarily sit down nine to five and achieve what you want. That's not just an excuse or a get-out clause, it's something that actually enables you to take a break if it's not working. It has definitely enabled me to take a break when I felt I couldn't, when there was an imminent deadline and I felt that I should just sit and work. But you can't always force it, that moment of trying to bring together ideas in a new way.
What advice would you give to students hoping to do research in libraries and archives abroad?
There were a number of difficulties for me. Inevitably, whatever your linguistic competence it's much harder to go to an archive when you are not in your native language, because there is always technical vocabulary you may not know. A new archive is always daunting, I would advise new researchers that everybody always feels daunted, because there are so many unknowns. Because the archive I was using was a state archive, I found they were really quite bemused by the fact that I was asking for war songs and military music when they also held the Mozart archive and the Mendelssohn archive! There was a bit of scepticism as to the worthiness of my research, which is also inevitable if you are a student researcher. They won't always massively trust you. The most important thing when you start is to put some time into interpersonal relationships and to build trust with the archivists, because they are your best resource. They not only have knowledge of the archive, but access to catalogues that aren't publicly available. It also makes it more fun to be in an archive if you know the people who are working there. I was told when I started archival work in Paris that I should take up smoking to encounter the archivists on their coffee breaks. I would not advocate that! But the point remains, build relationships with archivists.
You did postdoctoral research in a French department, how did you find this differed from working in a Music department?
It was a great project. Being a research fellow meant that I didn't have administrative or teaching responsibilities, so I participated less in departmental life. On the other hand, it gave me incredible freedom to get into interdisciplinary conversations, not just in the French department, but my office was next to an Italian scholar who also worked on the Napoleonic period. I also spoke to scholars working on the Napoleonic period from an English perspective. We ended up doing a lot of collaborative work with historians working on this period.
When you're the only musicologist in the room, it gives you a certain exotic appeal, and a way into conversations. It has the downside that you end up speaking for music in general, as the only musicologist there. I do like being back in a music department and being held accountable by other specialists on my subject area! But certainly, as a way of opening new directions for research, and getting reading recommendations, it was brilliant.
You were involved in curating an online exhibition marking the defeat of Napoleon. How did you become involved with this project, and how important do you think the role of public engagement is?
This project came out of these interdisciplinary conversations at Warwick. It was a collaboration with Mark Philp, one of the history professors there who has worked on the British reception of revolutionary ideas and Napoleon. We had a shared frustration about the jingoistic nature of the approaching Waterloo commemorations in 2015, which seemed to reflect broader isolationist and nationalist tendencies in current politics. It felt important to offer an alternative perspective on the events around Waterloo, one that looked at international alliances more sensitively, one that looked at the very different sympathies expressed by the British public at that time. A lot of the Brits didn't want to go back to war in 1815! They'd been at war for ages! Also, Napoleon had been put back on the throne in 1815 by popular support, and Britain as a democratic country struggled with the idea of challenging a leader with popular support. We tried to tell that different story, riffing off the idea of the history of the world in a hundred objects, drawing analogies with the hundred days when Napoleon got back to power. It was a great opportunity to bring together scholars from all over the world to contribute an object.
In terms of public engagement more generally, I don't think research should be determined by its potential for public engagement, otherwise we really limit the research we can do. However, I think it is really important to communicate your research, the ideas and discoveries that you find, but it shouldn't delineate it. I have had a lot of fun working out which aspects of my research can relate to contemporary ideas and particular institutions. For example, I am at Durham, and one the museums near me is the Bowes Museum, which was founded by an illegitimate Victorian aristocrat who married a French actress. They had a massive collection of French objet d'art. I was able to do a lecture concert there of some of my work on Napoleon's use of music as part of his public image.
Music historians in many ways have it easy because you are engaging with people's aesthetic pleasures and dislikes. You are also telling stories: people are often quite susceptible to storytelling. Also, because people don't necessarily associate music with politics they are often quite intrigued by the ways in which music has been used politically in the past, which is one of my research areas. That has definitely enabled some of my public engagement work.
What music do you listen to in your spare time?
It's eclectic and predictable in lots of ways, my musical gods are Bach and Schumann. In another life I was both an organist and a singer, so that's where that comes from. I also listen to David Bowie and Joni Mitchell, I often find music with a really strong beat helps keep my energy up when I'm working. I think I finished my PhD to Johnny Cash, and I got through my postdoc on Caravan Palace! I've most recently been listening to Dengue Fever, which is a funk band with Cambodian vocalists. I'm not devoted to any particular genre, it's just things that people end up pushing my way.
Where do you see your research going in the future?
I am currently finishing a book on Berlin, using this city as a way to rethink the musicological conception of modernity in that circa 1800 moment. It engages with things like the rise of historical consciousness and the rise of the popular. That, in part, was the keynote that I gave yesterday.[2]
My next big project is going to be looking at the pan-European circulation of popular music theatre. This comes out of my work on melodrama. I want to look at these repertoires that have been neglected and think about it in terms of performance style. This is interesting from the perspective of genres for which we have no continuous performance tradition. It is also a way of thinking about the value system. The project about popular music theatre is going to be engaging with the way it was organised, suppressed or framed to be separated from high art. This is going to be a preoccupation for a good few years and will include a good amount of archival work in European cities! It's a hard life!
[1] For Hambridge's prize-winning article, see 'Staging Singing in the Theater of War (Berlin, 1805)', Journal of the American Musicological Society 68/1, 39-98.
[2] Katherine Hambridge, 'Popularising the "popular"', keynote address, BFE/RMA Research Students' Conference 2018, January 2018. For an abstract, see https://www.bferma2018.com/program, accessed 5 February 2018.