The 2018 BFE/RMA Research Students' Conference took place at the University of Huddersfield on 4th-6th January 2018. Everyone involved in the running of the conference delivered a welcoming and most professional event. The Yorkshire warmth of Victoria sponge cakes with tea around 4pm came to be expected, and provided a much-needed sugar injection at a key point of the day. With nearly 100 sessions including the key notes and parallel seminars and training, this was a fascinating and varied, but intensely packed, three-day programme. That the Huddersfield team made everything seem effortless, and no question was a problem, is a credit to them.
The elegance of organization afforded room for delegates to contemplate the overarching conference theme of 'Music Inside and Out' which, in delivery from the researchers attending, equally embraced practice, theory, history, education, traditional and the popular in interdisciplinary and innovative ways.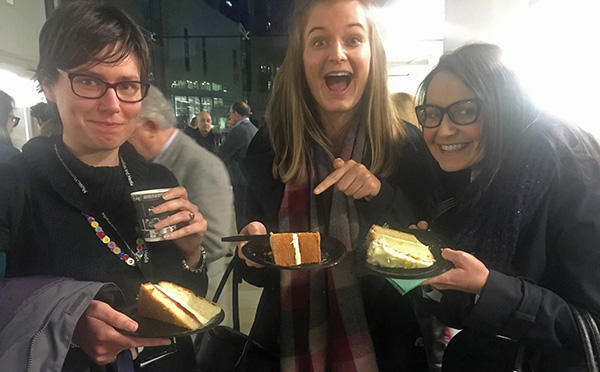 Katy Vaughan of Bournemouth University, Anna Kent-Muller and Clarissa Brough of University of Southampton extoling the virtues of cake for afternoon tea, photo courtesy of Anna Kent-Muller
Sadly, due to a seasonal cold, I missed all the social events such as the Routledge-sponsored drinks reception and Toby Martin interviewing Hardeep Singh Sahota followed by the Bhangra dance workshop. I was later informed that these were some of the liveliest parts of the conference. However, I was glad to catch both of the opening and closing keynote speeches. 2016's Jerome Roche Prize winner, Katherine Hambridge's (Durham University) paper, 'Popularizing the 'Popular' was an insightful probe into the lack of scholarly attention paid to popular music of the early 19th century. Hambridge revealed the 'historical self-consciousness' of early Berlin via its politics and critics of cultural life. Kevin Dawe (University of Kent) closed the conference with poignant questions on contemporary instrument production methods including how musicians might better consider choosing more ecologically futureproof instruments made by modern day luthiers. Hambridge examined the inner, the hidden, demonstrating how this rich seam of history needs to be outside and heard. Dawe considered the outer, how musicians need to prepare for the future over their inner aesthetic preferences.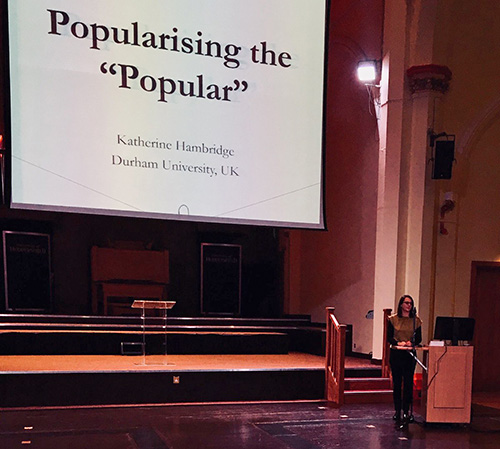 Katherine Hambridge giving her keynote speech, photograph courtesy of Enya Doyle, both from Durham University
On the first day, Pétur Jónasson of the Royal College of Music shared his pilot study which had measured the visual attention of five experienced musicians versus five novices, the early results raising further research questions on better understanding how musicians visually process notation information. Performer Agata Kubiak and composer Bartosz Szafranski (University of West London) led us through their fascinating journey from rehearsal to performance using a scrolling score on screen. Agata's admissions about the disparity between rehearsals – 'It was like having a visual silent metronome' – were frank about the rigidity of the method being researched. Bartosz admitted to another questioner how his style of composition was the mother of invention for this method. This author thought the recorded delivery of the music more than justified the effort.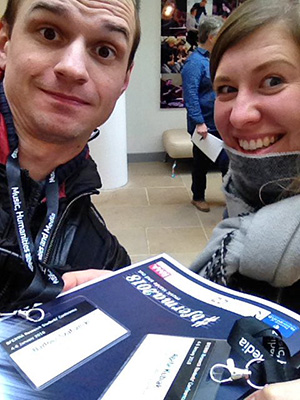 Composer Bartosz Szafranski and performer Agata Kubiak of University of West London before their joint presentation, picture courtesy of both of them
I was delighted to chair three equally stimulating papers considering 'Popular Music and Social Change' on Friday. First, Samuel Murray (Teeside University) made a timely and rousing call for how popular music researchers can and do affect change in our cultural communities. Nathan Landes (Indiana University) then tackled some uncomfortable realities of how people in subcultural groups can reaffirm outdated prejudices within their own niche. Finally, Emma-Jayne Reekie (University of Liverpool) posed thought-provoking questions about the true motivations behind the uneasy mix of musicians within UK and US political award-giving. Despite the difference in time period, the cultural hierarchies that Katherine Hambridge had previously identified were clearly shown to reoccur in multifarious modern manifestations. Alex de Lacy's (Goldsmiths College) first hand field research into grime affirmed this, revealing how the story of how a genuinely contemporary underground scene has been swiftly taken from the underground and misrepresented in the mainstream. De Lacy identified the pressing need for archiving of grime now, as already, some of the scene's music from only fifteen years past is in danger of being lost forever.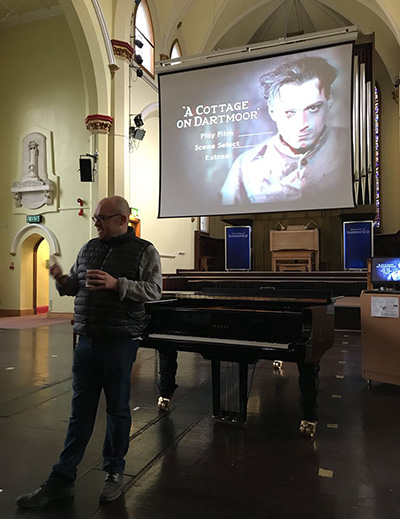 Jonathan Best of the University of Huddersfield giving an 'Improvising to film' training session, picture courtesy of Peter Falconer of University of Southampton
The gender and sexuality seminar on Saturday provoked discussion on how the term 'queer' has transformed in meaning within these marginalized communities from the 1990s to the present day. Richard Piatak (Huddersfield University) highlighted the chillingly contemporary agency inherent within Amyl Nitrate's punk apocalyptic rendition of 'Rule Britannia' in Derek Jarman's nihilistic 'Jubilee', alongside David Buschmann's application of Martina Löw's space theory to contemporary LGBT+ clubs of Berlin. Enya Doyle's (Durham University) paper generated good humour amongst her audience: a testament to the speaker, whose first-hand research of the intrinsic bias against women in the Church of England's musical traditions came, sadly, as no surprise. But Doyle's paper also shared glimmers of hope for change, chiming well with Samuel Murray's call for social action the day before.
Being a part-time long-distance learner in my first term, attending my first BFE/RMA Research Students' Conference on my home turf was a stroke of luck for me. It presented the opportunity to test out initial findings in a familiar environment. Having presented previous papers at other international conferences, I can confirm that as a presenter, I found a peer audience to be much more highly engaged. 'Music inside and out' raised valuable and important questions about inclusivity and representation for all of us to consider, as outgoing RMA President Mark Everist noted. Furthermore, the peer feedback, engagement and support was enlightening to hear and uplifting for every speaker to experience. I enthusiastically concur with keynote speaker Kevin Dawe's closing affirmation of the exceptional standard of papers at the 2018 BFE/RMA Research Students' Conference and I hope to attend the 2019 event in Sheffield. We can only be enriched by other researchers from divergent praxis.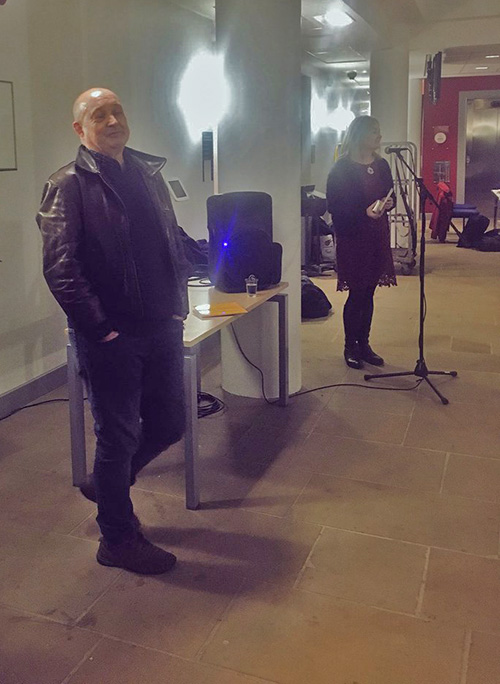 Professor Mark Everist about to give his outgoing speech as RMA President, photo courtesy of Anna Kent-Muller, both of University of Southampton
Leon Clowes is a part-time PhD student at University of Huddersfield, and his research topic is 'Burt Bacharach's (Un)easy Listening: A Model for Musicians from the Middlebrow'.