The University of York was delighted to host a unique study day on Nordic music on 29 April 2019. This event brought together an international body of researchers, some of whom had not met before, in an engaging, friendly and inclusive atmosphere. The combination of musical analysis alongside historical, cultural and empirical lines of investigation reflected the diversity in this growing field, but also those common issues in approaching music from the Nordic regions.
To begin Session 1, entitled 'Vocal Music', Sarah Moynihan (Royal Holloway) addressed Finnish landscape in Jean Sibelius's song 'SydämeniLaulu', arguing that a particular "space" is present through an ambiguous "double-tonic landscape". Meanwhile, Daniel Collins (Oxford Brookes University), uncovered the role of Finnish opera in the context of Finnish independence in the early 20th Century.
In Session 2, on issues of musical modernism, Leah Broad (University of Oxford) discussed incidental music on the Nordic stage, especially in Sweden. Reassessing contexts of modernism, this paper evaluated the significant role of theatre music as another rubric of musical success. Dr Christopher Tarrant (Anglia Ruskin University) presented on 'Vitalism' in the symphonies of Danish composer Carl Nielsen. He drew upon the visual arts to further explore Nielsen's relationship with this aesthetic as part of his broader, early-modernist idiom. To close this session, George Kennaway (University of Leeds) introduced the Lithuanian composer, Mikalojus Čiurlionis (1875-1911), especially his experimentalism and relationship with his home country.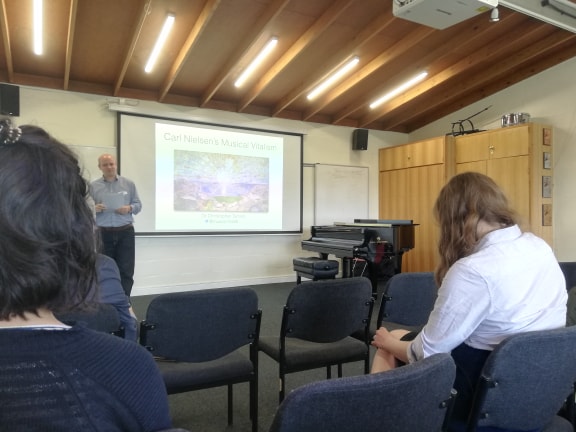 Dr Christopher Tarrent discussing 'Vitalism' in the music of Carl Nielsen
Live Nordic music was provided by the Music Department's contemporary music ensemble, Chimera. These excellent undergraduate players (Rebecca Burden, Pip Booth and Jakub Watrobski) performed 'Light and Matter' by the Finnish composer Kaija Saariaho. Tim Howell (University of York) introduced this shimmering piece, providing concise, yet in-depth, insight into its processes and relation to nature.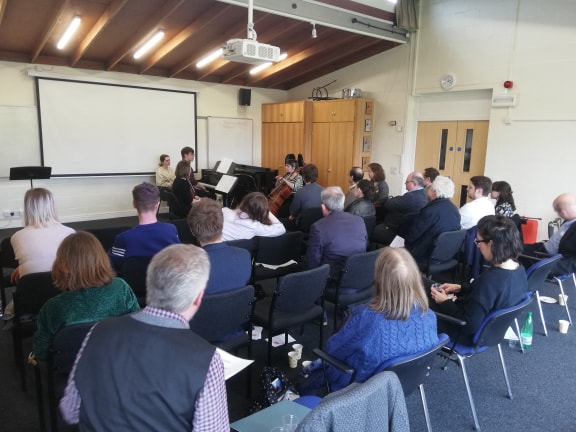 The Chimera Ensemble perform KaijaSaariaho's 'Light and Matter'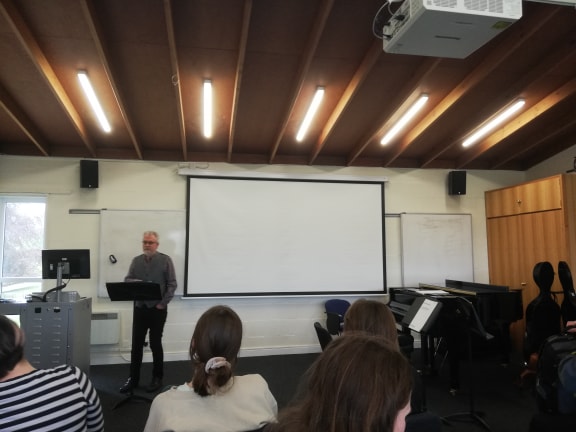 Prof. Tim Howell introducing Saariaho's 'Light and Matter'
Session 3, 'Contemporary Music in Finland', reflected the extraordinary amount of new music in this small country. Owen Burton (University of York) investigated the visual influence of "light" in Esa-Pekka Salonen's Violin Concerto, considering how this phenomenon informs harmony and musical form, as well as how it reflects Finland as a place. Secondly, through her unique perspective, Clarinettist Lucy Abrams (Sibelius Academy) sought to uncover how group collaborations inform contemporary Finnish musical performance. Elke Albrecht, also based in Helsinki, offered a multi-perspective study on the composer Kalevi Aho, revealing a comprehensive documentation of this composer's output and compositional processes.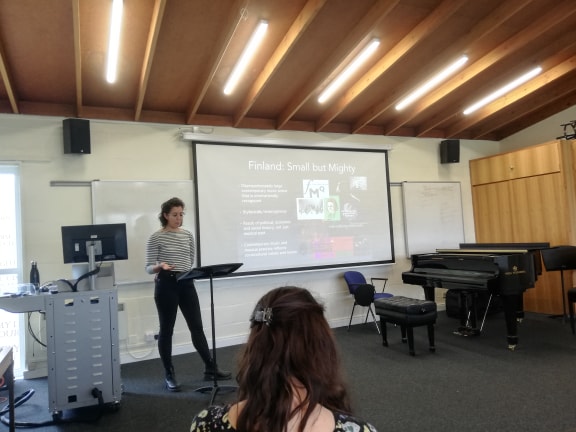 Lucy Abrams on "performance-led research" in Contemporary Finnish Music
To close, a panel discussion chaired by Richard Powell addressed some emerging themes, especially the question of "Nordicness" in music. He was joined by Tim Howell, Leah Broad and Owen Burton, while the discussion soon broadened out to the whole conference.
On behalf of the committee, it was a pleasure to run and be involved in a relaxed and friendly study day and we look forward to future events that bring together the community of researchers in Nordic music.
Owen Burton (University of York)