The purpose of the blogpost is to demystify the creative process by discussing my work 'Wind and Trees Soundscape,' which can be listened to on YouTube: https://youtu.be/nEOBp8hqHoU
Creative practices, also known as practice based research, at university level are contemporary research practices that incorporate practitioners, creative arts, and research. This ultramodern way of research is fast-moving within universities, "bringing with it dynamic new ways of thinking about research and new methodologies for conducting it" (Smith & Dean p. 1, 2014). As higher education encourages creative practices, there is a changing tide in the fundamental way that academics view research, including large transformations in evaluating work, approaches to academic writing, and even the relationship between research and researcher (Smith & Dean 2014).
This fusion of research (academic writing and artistic creation) is simultaneously rewarding for my PhD research and for my personal self-expression. I see the creative practice approach as a new frontier, paving a way to conduct research differently from before. I value this direction for the reason that my PhD research is inspired by something very personal, and the creative practice allows me to explore this aspect of my personality further.
In 2015, I began to self-soothe my anxiety and stress symptoms with guided meditations on YouTube. I started with 5 minutes a day and worked my way up to 1 hour. I noticed improvements with my inner-world and began exploring this topic of music and mental health in my master's degree.
As a PhD researcher, I take this research deeper by creating soundscapes using field recordings from walks and pairing the audio with nature photography. Through the autoethnographic method, I document the process of the nature meditation walk with blog posts, diary entries, nature recordings, photos, and voice clips, to use as qualitative research. Autoethnography is the process of giving a voice to the personal, subjective experiences through self-reflection and analysing the relationship between self and society (SAGE Publications), which is achieved through documenting the creative process.
To gain a comprehensive understanding of the creative choices I make, my research looks at current artists in the soundscape design field or ambience as well as psychology, media studies, spirituality, and philosophy. Some inspirations include Janet Cardiff (Sound Artist), The Honest Guys (Guided Meditations), Brian Eno (British Musician). I take the theories derived from these fields and put them into practice to see whether the nature soundscapes I create have a relaxing effect on me.
The process begins with a need to relax. When I am feeling anxious or stressed, I take walks in nature to help ground me. I am lucky to be in a town that has plenty of green spaces to visit. A walking meditation, or "mindful walking" may seem counterintuitive to some, but it is a great way to practice mindfulness while still actively moving. You simply walk with focused awareness and attention on your thoughts, body, and surroundings (Holistic Wellness Practice).
From my standpoint, environment plays a role in my stress and anxiety. What I hear, feel, see, and experience can impact my mood and my heart rate. Research from the University of Minnesota suggests:
"Being in nature, or even viewing scenes of nature, reduces anger, fear, and stress and increases pleasant feelings. Exposure to nature not only makes you feel better emotionally, it contributes to your physical wellbeing, reducing blood pressure, heart rate, muscle tension, and the production of stress hormones. It may even reduce mortality, according to scientists such as public health researchers Stamatakis and Mitchell. Research done in hospitals, offices, and schools has found that even a simple plant in a room can have a significant impact on stress and anxiety."
Knowing that sounds of nature, or even images of nature, can help reduce anxiety acts as a driving force as to why I document the walks through field recordings and photography. Likewise, sometimes my anxiety is severe, meaning that I am unable to leave the house to have meditation walks. Consequently, I experience self-soothing from the nature soundscapes I generate by listening to the recordings at home.
During the nature walks, I take many photos and field recordings. I take note of what I see and hear, as this is what I have learned to do from my sessions in Cognitive Behavioural Therapy. This is found in various guises such as mindfulness, 5 senses technique, or 1,2,3,4,5 technique. Professor Mark Williams (Oxford Mindfulness Centre) suggests:
"an important part of mindfulness is connecting with our bodies and the sensations they experience. This means waking up to the sights, sounds, smells and tastes of the present moment. That might be something as simple as the feel of a banister as we walk upstairs. It's about allowing ourselves to see the present moment clearly. When we do that, it can positively change the way we see ourselves and our lives."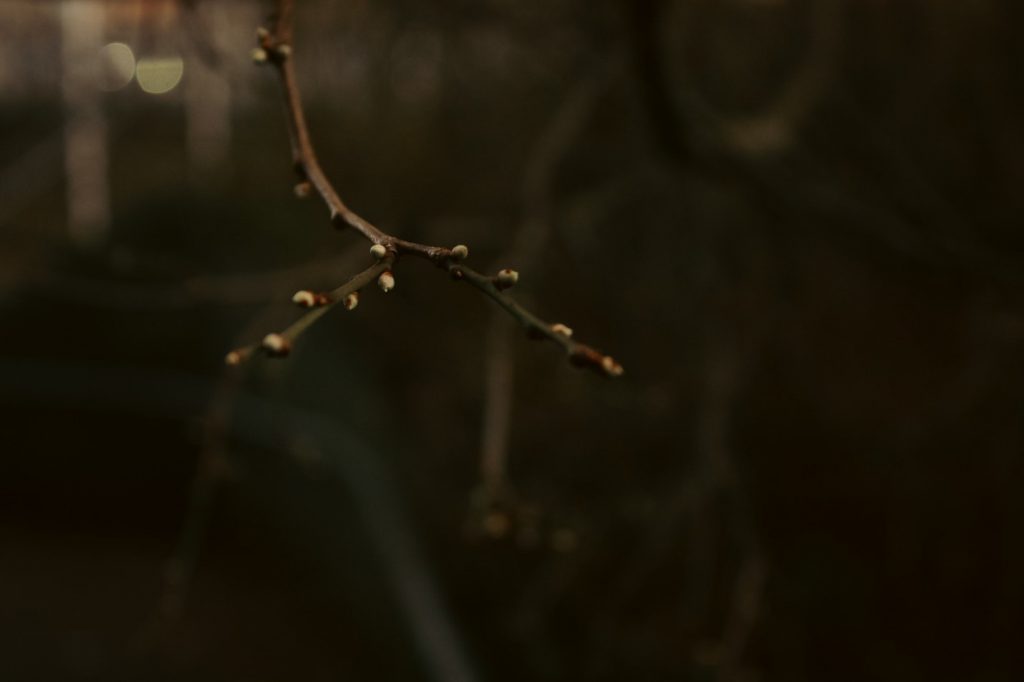 To get a better understanding of using sight as a form of mindfulness, below is a screenshot of the photoset from the walk used to make Wind and Trees Soundscape.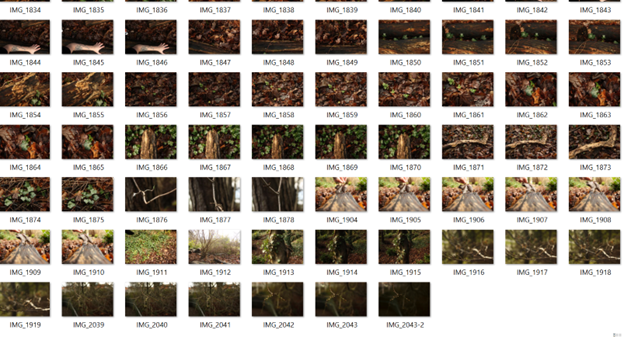 The length and distance of my meditation walks differ each time, some being 20 minutes or hours long. This variation is also seen in the photos collected, where some photo sets may be 200 photos, or 900 photos. I use my Canon EOS camera and edit using Adobe Lightroom and Adobe Photoshop. My aim is to enhance the photos and play around with colour, I do not distort the images as I want them to keep their nature-feel.
Additionally, I collect the field recordings using my Samsung Galaxy recorder. With the field recordings, my aim is to focus on nature sounds. However, when I use BandLab( free music editing software) to analyze the sounds, sometimes unwanted traffic, construction, or even talking, might be in the recording. Though I have used recordings like this in the past,I now choose choose to focus solely on nature sounds as that is the primary focus in my PhD research and relaxation.
I make the artistic choice to generate simple soundscapes. Often, I use fewer than 5 added sounds to help create a predictable rhythm through patterns and loops. This technique is used to help reduce uncertainty, which fuels anxiety. "Predictability can have a powerful impact on emotional wellbeing and we often feel safer when we have a sense of routine" (NAC Wellbeing). From my experience, hearing a predictable repeated patterns of sound assists relaxation and provides order and routine. This means that each time I listen to the soundscape, I know what to expect and can relieve my stress through repetition.
From what I have learned, stress and anxiety are impossible for me to prevent. However, the creative process of making soundscapes, along with listening to soundscapes, greatly reduces my stress and promotes relaxation. I encourage others to try this technique for their own wellbeing. If you find yourself struggling, please view the resources below to get the help you need. Or visit: https://musicmentalhealthgroup.wordpress.com/resources/
To learn more about my research, please visit my website: https://coreopulencemusic.com/
Resources if you are struggling with your mental health:
· Anxiety UK: Anxiety UK works to relieve and support those living with anxiety disorders. 08444 775 774
· Mind Infoline: The Mind Infoline service is run by a dedicated team of specialists, responding to more than 20 000 enquiries a year. Topics range from types of mental distress, where to get help and drug treatments, to alternative therapies and who's who in mental health services and advocacy. 0300 123 3393 (Open Monday to Friday 9am to 6pm except for bank holidays) or text 86463
· NHS: The NHS in England and Wales offers people medical information and advice by phone or over the internet. They can also refer callers to various self-help and support organisations. 111. In Scotland, contact NHS 24 on 111
· The Mental Health Foundation: The Mental Health Foundation provides information, carries out research, campaigns and works to improve services for anyone affected by mental health problems, whatever their age and wherever they live
Cited:
Smith, H., & Dean, R. T. (2014). Practice-led research, research-led practice in the creative arts. Edinburgh: Edinburgh University Press.
*Hyperlinks added to web-based sources.
Madison Miller
m.s.miller@wlv.ac.uk