Here at the RMA, we continue our tradition of interviewing the winner of the Dent Medal Prize every year. Our 2021 recipient was musicologist, author and fellow of the British Academy Professor Laura Tunbridge. Niamh Gibbs interviewed Laura after her presentation at the RMA's annual Conference in Durham.
---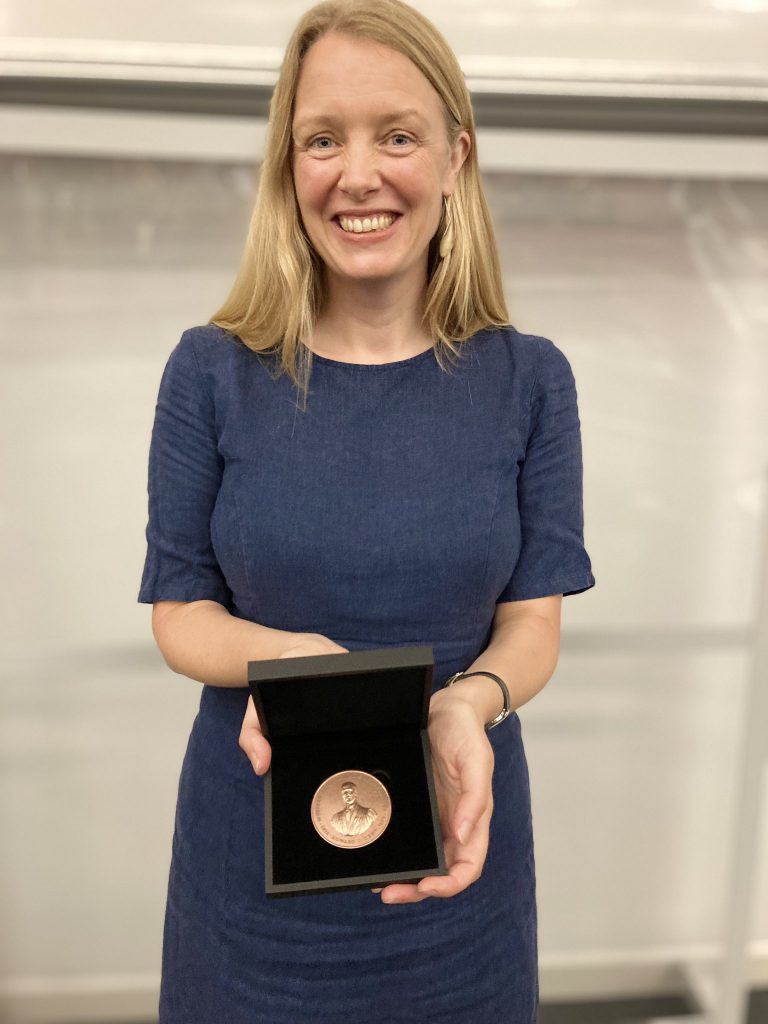 Laura Tunbridge studied at Oxford, Nottingham and Princeton before teaching at the Universities of Reading and Manchester. In 2014, she joined the University of Oxford in 2014, where she is a Professor of Music and Henfrey Fellow and Tutor in Music at St Catherine's College. Laura's publications include the books Schumann's Late Style (2007), The Song Cycle (2010), Singing in the Age of Anxiety: Lieder Performances in New York and London between the World Wars (2018), Beethoven: A Life in Nine Pieces (2020), and the essay collections German Song Onstage, co-edited with Natasha Loges (2020), and Song beyond the Nation: Translation, Transnationalism, Performance, co-edited with Philip Bullock (2021). She currently holds a Major Research Fellowship from the Leverhulme Trust for a project about string quartets. Laura was editor of the Journal of the Royal Musical Association (2013-2018) and currently serves on the Directorium of the International Musicological Society. She was elected a member of the Academia Europaea in 2020 and as a Fellow of the British Academy in 2021.
---
Niamh Gibbs: You recently gave the Dent Medal Lecture at the RMA Annual conference in Durham. Can you tell our readers a little about your lecture and what you presented?
Laura Turnbridge: My lecture brought together various strands of my research interests. I discussed how the 'Heiliger Dankgesang' from Beethoven's String Quartet op. 132 has been interpreted in various performance contexts, from Calixto Bieito's production of Fidelio (2010) through to Cassandra Miller's Thanksong (2020), thinking in between about changing quartet performance practices (especially the use, or non-use, of vibrato).
NG: You've published a variety of fantastic books including your most recent Beethoven A Life in Nine Pieces, which won an award from Presto Books last year. How did you go about choosing the nine pieces and which of them is your personal favourite?
LT: While there had to be some of the most famous works, which people would recognise, I wanted to discuss a variety of genres that would show the range of Beethoven's output and introduce some less well-known examples. Other criteria were to find pieces that reveal a particular aspect of the composer's life or the surrounding history. For instance, the Septet op. 20 was the piece with which he made his name in Vienna c. 1800. Through that example you can discuss how Beethoven established his reputation, the musicians he was working with, genre expectations, and so on. I don't have a favourite as such, but I did enjoy the chance to get to know some pieces better, such as the Choral Fantasy, which I remember thinking was a really strange but rather wonderful piece when I played in it as a student.
NG: What's your favourite part about being a musicologist?
LT: It's the moments when something I hear, play, or read, reveal a new connection for me.
NG: And what's a musicological book that you'd recommend everyone read?
LT: Not exactly a musicological book, but a book about a musicologist, which satirises the field's preoccupations: Thomas Bernhard's novella Old Masters.
NG: If you could have dinner with three musicians (alive or dead) who would they be?
LT: I hope they'd all be resuscitated for dinner! George Bridgetower, to find out what really happened between him and Beethoven; Pauline Viardot, for the after-dinner entertainment; and Debbie Harry ( of course, I would resist the temptation to show her the family cine of me dancing, aged five, to Blondie on Top of the Pops).
NG: Another question about your research. Some of your more recent publications around song cycles led to an exploration of concept albums of the twentieth century – how did you develop this interest?
LT: I've always been interested in a wide range of music and in fact knew and enjoyed various concept albums before I came to work on song cycles. When talking about songs being brought together into collections it seemed like there was an obvious comparison to draw. I think it's important to acknowledge that there can be similar practices and values in classical and popular genres rather than treating them as existing in separate worlds.
NG: Where do you see musicology going in the future in terms of its directions and impact on the wider world?
LT: Having been at some big conferences over the summer, I think that musicology as a discipline is in pretty good health. Incorporating ethnographic research into historical or analytical studies seems significant and I find the interdisciplinary reach really exciting. I am concerned about the future for international collaborations and archival research post-Brexit, post-COViD and given global politics. Teaching-wise, the diminishing support for education in arts and humanities generally is a major issue, and the same is true for music organisations which are struggling to survive. Without those partners it will be almost impossible for musicology to have an impact on the wider world.
NG: Lastly, what advice would you give to any student looking to pursue a musicological career?
LT: When I was a graduate student, one of my professors told me the five-point plan they had been told by one of their professors … but it seemed out of date to me then and would be more so now. There is no one way of doing it. These are difficult times to enter academia and it's important to be realistic about what opportunities are available. I'd encourage everyone to continue listening and reading widely, and to talk to each other, sharing thoughts and experiences. We're all engrossed in our own patch, but I find hearing about other people's interests and concerns at seminars and conferences to be immensely stimulating and helpful in developing my ideas, understanding and sense of perspective.
---
Niamh Gibbs is completing her PhD at the University of West London, researching presentations of 'the uncanny' in music and sound for screen. She also researches around accessibility and disability issues within music related industries. She is a student committee member for the RMA and is involved with their Music and Mental Health Group.