It is with great sadness that we announce the passing of Carolyn Gianturco on 29 April 2022.
Carolyn Gianturco studied at Marywood University (B Mus.) and Rutgers University (M.A.) in the USA. She obtained her D.Phil. in Musicology at Oxford University under the guidance of Sir Jack Westrup.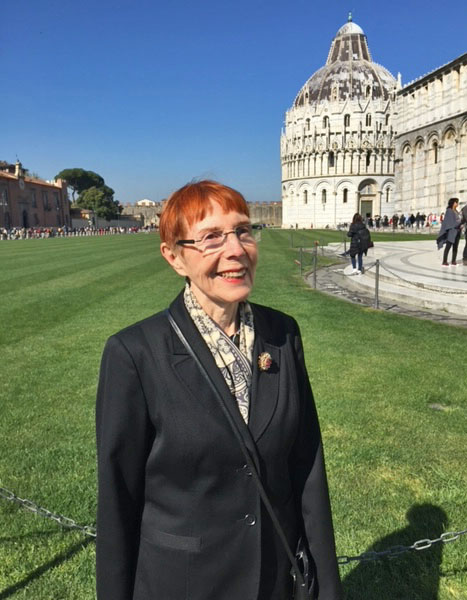 She taught Music History at Pisa University for the years 1971-2004 and was visiting professor at several Universities in Italy, the United States and Great Britain. Her research has centered on Italian 17th century music with, as she describes it, "some excursions into the 16th and 18th centuries."
In 1987, she founded the Associazione Toscana per la Ricerca delle Fonti Musicali (President 1987-2002) with the aim of cataloguing music in Tuscany and thus documenting its rich music history. An off-shoot of this is the series of publications she founded and edits, "Studi Musicali Toscani." (13 voll. published to date). She has been President of the Società Italiana di Musicologia (1997-2001) and Vice-President of the International Musicological Society (2002-2007). She was National Advisory Editor for entries related to Italy in "The New Grove Dictionary of Music and Musicians" 2nd ed. (London 2001). In 2012 she was elected member of the Academia Europaea.
Gianturco's research in musicology has been published in Italy, England, the United States, Spain and Germany, and includes 7 books (of which she considers "Mozart's Early Operas" (London 1981) her "first important book"), 4 chapters, 48 articles, 165 entries in encyclopedias. She was also the General Editor of 16 volumes of Italian Seventeenth-Century Cantatas (New York 1985-87) which offer more than 400 manuscipts in facsimile and editions of the texts, as well as Editor of several other volumes of research and music.
Perhaps her greatest achievement, however, has been uncovering the life and music of the Italian composer Alessandro Stradella (1643-82), a subject she continues to pursue even after 30 years. In fact, she wrote the first documented monograph on Stradella (Oxford 1997) which she translated and updated as "Stradella 'uomo di gran grido'" (Pisa 2007). She also co-authored the first thematic catalogue of his more than 300 compositions extant in 800 mss (Styvesant, New York 1994).
In 2000 the Italian Ministero per i beni e le attività culturali agreed to sponsor publication of Stradella's Complete Works in 42 volumes, and Carolyn Gianturco was named President of this Edizione Nazionale (11 voll. published to date).