The Tippett Medal is a prize for composition awarded by the Royal Musical Association.
For the 2021 award, we received submissions from a wide variety of compositional practices, including acoustic pieces, music for voice, and mixed instrumental/electronic works. All submissions underwent a blind review process.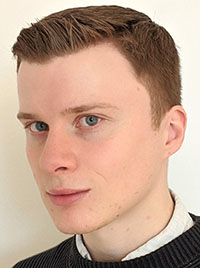 The winner of the 2021 Tippett Medal is Jonathan Woolgar for Canzoni et Ricercari, scored for onstage string ensemble of 9 players and 3 offstage violins.
The jury described this as a strongly made piece, assertive and idiomatic. The jury commended the individuality, describing the piece as well-crafted music that was expressive, quirky and playful. In addition, the work was described as powerful, making tight, economical, inventive and expressive use of its musical material.
Woolgar said: "I'm thrilled to have been awarded the 2022 Tippett Medal for Canzoni et Ricercari. Working with the brilliant 12 Ensemble on its premiere was one of the most enjoyable experiences of my compositional life, and I'm so glad that the RMA panel enjoyed the piece enough to deem it worthy of this award. My thanks also go to the Royal Philharmonic Society for commissioning the piece."
Listen to the winning work here: https://soundcloud.com/jonathan-woolgar/canzoni-et-ricercari-world-premiere-recording
In addition, the judges awarded a Highly Commended mention to Thomas Metcalf for Arrays, a work that explores how a varyingly pixelated text can be used to create musical structure and material. The jury described this as a serious, weighty work for solo piano, noting that the composition is striking, clear and beautiful in terms of its sonorities and gestures.
There were two further finalists in this year's competition: The Sun, the Moon and their lobster children by Philip (Phoenix) Rousiamanis, and Frozen Plains by Cameron Biles-Liddell.
Entries for the 2022 prize (for works which have received a premiere public performance/premiere at any time during the calendar year 2022) will launch later this year.
Known internationally as one of the most significant composers of the last century, Michael Tippett embodied principles that the RMA similarly exemplifies: he was a passionate believer in social equality and musical education, prepared to suffer isolation and jail for his humanitarian beliefs. In naming the RMA's first award for composition after Tippett, we wish to reinforce our commitment to music education, the vital importance of live performance, and contemporary composition of all different kinds.
The 2021 Tippett Medal jury was:
Steven Berryman (Composer and RMA Council Member)
Manuella Blackburn (Composer and RMA Council Member)
Sarah Gee (Chief Executive, Spitalfields Festival)
Nicola Lefanu (Composer)
Sohrab Uduman (Composer)