'Standing on a flat rooftop in north Tehran on a summer's evening I am immersed in sound: the strains of the call to prayer echoing from local mosques; a rock beat from a passing car; the call of birds circling the mountains; a distant ringtone; the low-level hum of the city below.' (Field notes, 2015)
Iran's capital city is a vibrant metropolis, cradled in the foothills of the Alborz mountains, and the country's political and cultural centre for over 200 years. Drawing on recent fieldwork in Tehran and on the writings of scholars such as Matt Sakakeeny and Abigail Wood, Laudan Nooshin discusses the relationship between Tehran's urban environment and sound, including the work of local rappers.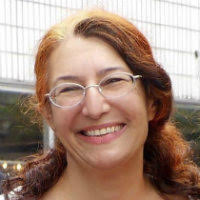 Professor Laudan Nooshin is the head of the Department of Music at City University, London. Her recent publications include the monograph Iranian Classical Music: The Discourses and Practice of Creativity (Ashgate Press, 2015), which was awarded the 2016 British Forum for Ethnomusicology Book prize, and the edited volumes Music and the Play of Power in the Middle East, North Africa and Central Asia (Ashgate Press, 2009) and The Ethnomusicology of Western Art Music (Routledge, 2014), as well as numerous journal articles and book chapters. She has also written a chapter on 'Hip-hop Tehran: Migrating Styles, Musical Meanings, Marginalised Voices' as part of the volume Migrating Music (Routledge, 2011). Laudan regularly writes feature articles and reviews CDs of Iranian music for Songlines: The World Music Magazine and is often contacted for advice and information on Iranian music and invited to speak about her research.